Black Socialists in America: Dual Power App
A platform for democratic digital organizing and secure social networking
Prompt
Create an organizing platform for grassroots organizations dedicated to building a directly democratic, ecologically sustainable community and economy through mutual aid.

Outcome
We worked with Black Socialist of America through an open design and build process that involves BSA's community every step of the way.

After collectively defining their product strategy and vision, we created Dual Power App — a comprehensive platform for democratic organizing, offering tools for founding, funding, governance, and internal + external communications. We also developed a digital identity for the Dual Power App.

Role
I collaborated with and mentored another product designer after the strategy phase of the project, providing design critique and advice on project management. I iterated on the main dashboard design, established the component library, and created designs for mobile navigation.

In addition, I organized a security workshop to identify the digital security needs of various users of the Dual Power App.
Digital Security Workshop

I organized a digital security workshop to identify the security needs for the Dual Power App. We assume potential user groups and discuss their threat modeling and how each feature in the app can be strengthened in terms of different secruity needs.

Dashboard with tools for collective change

The Dual Power App allows people to connect with other individuals, initiatives, and organizations (Circles) in their community, creating decentralized groups centered around a particular value or goal. The app gives users access to essential infrastructures, making organizing, voting, and action easier.

We created a flexible and modular tile system for the user and circle dashboard to gather all necessary building blocks for organizing in one place — proposals, events, member activities, finances, ability to discover other organizations etc. User and Circles can enable and organize orders of tiles to suit their different needs.
User & Circle Settings

Our security workshop demonstrated to us that different users of the Dual Power App have varying needs. To accommodate that and respect user preferences, the Dual Power App allows users to customize how they are represented in the app, as well as what personal identities to reveal.

In circle settings, members can adjust their settings specific to the circle, as well as view and propose a change. A prompt will appear inline asking if users does intent to propose an adjustment in settings, if they do, it will kick start a voting process. The setting in discussion will be disabled until the voting process is concluded.



Proposal Wizard

Proposals is an essential framework within the Dual Power App, essentially everything starts with a proposal, whether it is creating a new working group, a new event, requesting needs/crowdfunding, aligning on a mission, inviting initial members etc.

To help users get started, each circle has a set of relevant templates that users can browser through. The Proposal Wizard will automatically generate the appropriate content blocks to guide users after they've determined their type of proposal. Content blocks could include rich text editor, voting sliders, search field for members / area of focuses, image drag and drop, and radio selection groups.

In each proposal, members can select the voting model (usually pre-determined by the Circle) and timeframe before putting the proposal to vote.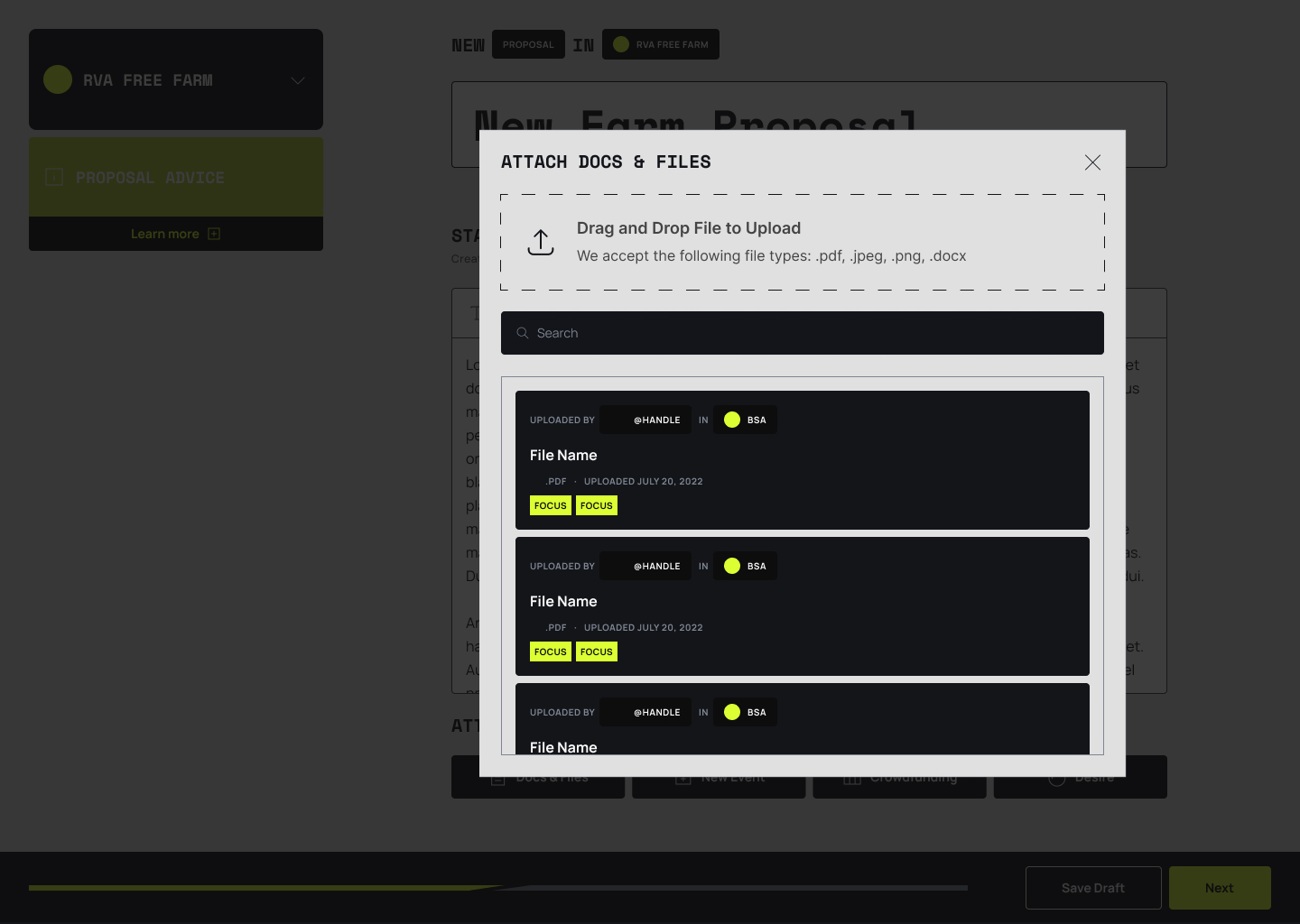 Discovery

The discovery feature allows users to easily find organizations (circles) and events of interests.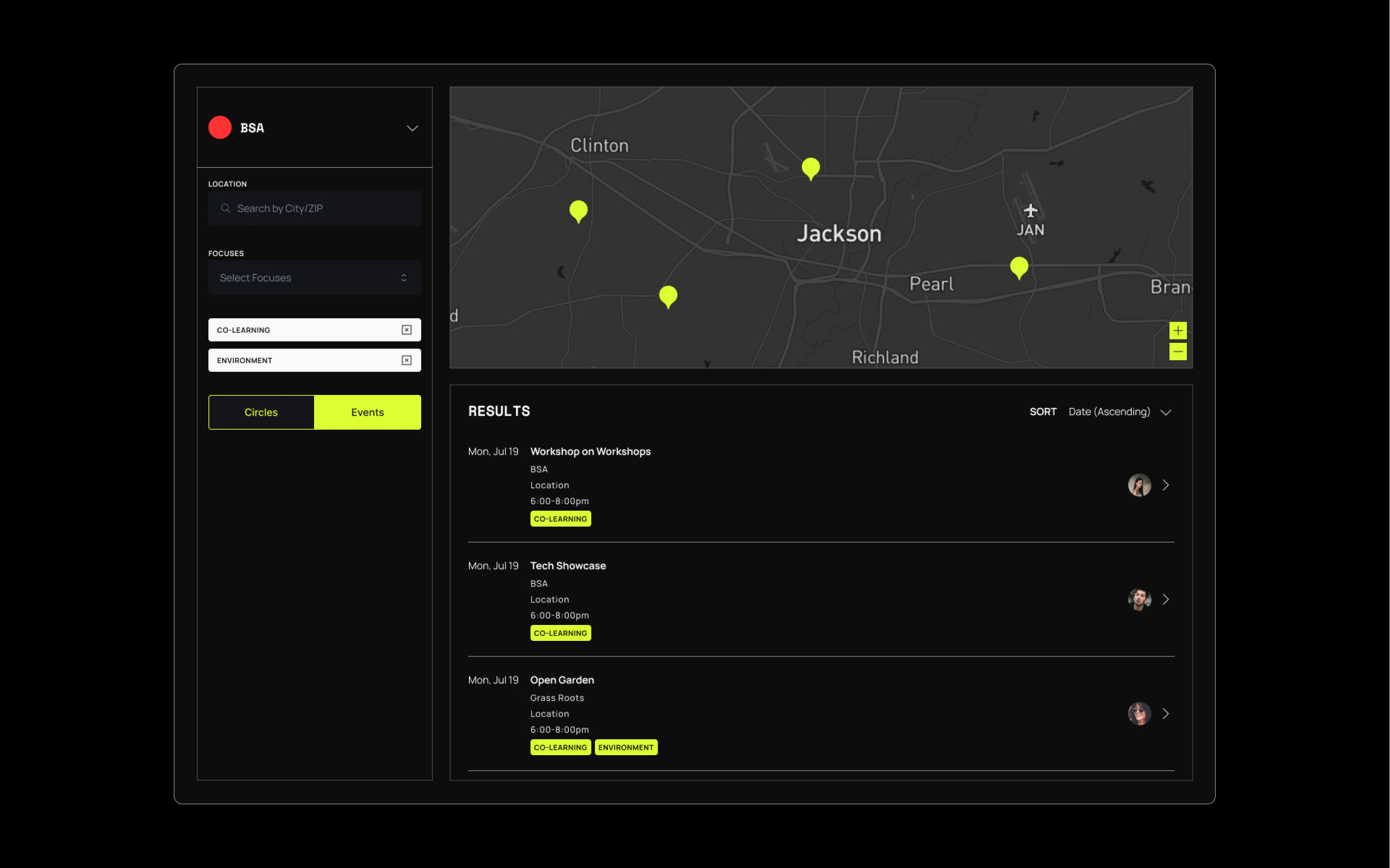 Circle profile

Each circle has a profile that could be shared publicly outside the Dual Power App. Depending on the circle's security settings, users with the link could potentially view a circle's information and learn about the recent activities and events before deciding whether they should join a circle.
Visual identity

We created a metro, expressive, and action-oriented design direction using signage inspired typography and high contrast color allude to the impactful nature of the Dual Power project.