Crutch Assist
A Design Research and UI/UX Solution to Being on Crutches as Dartmouth College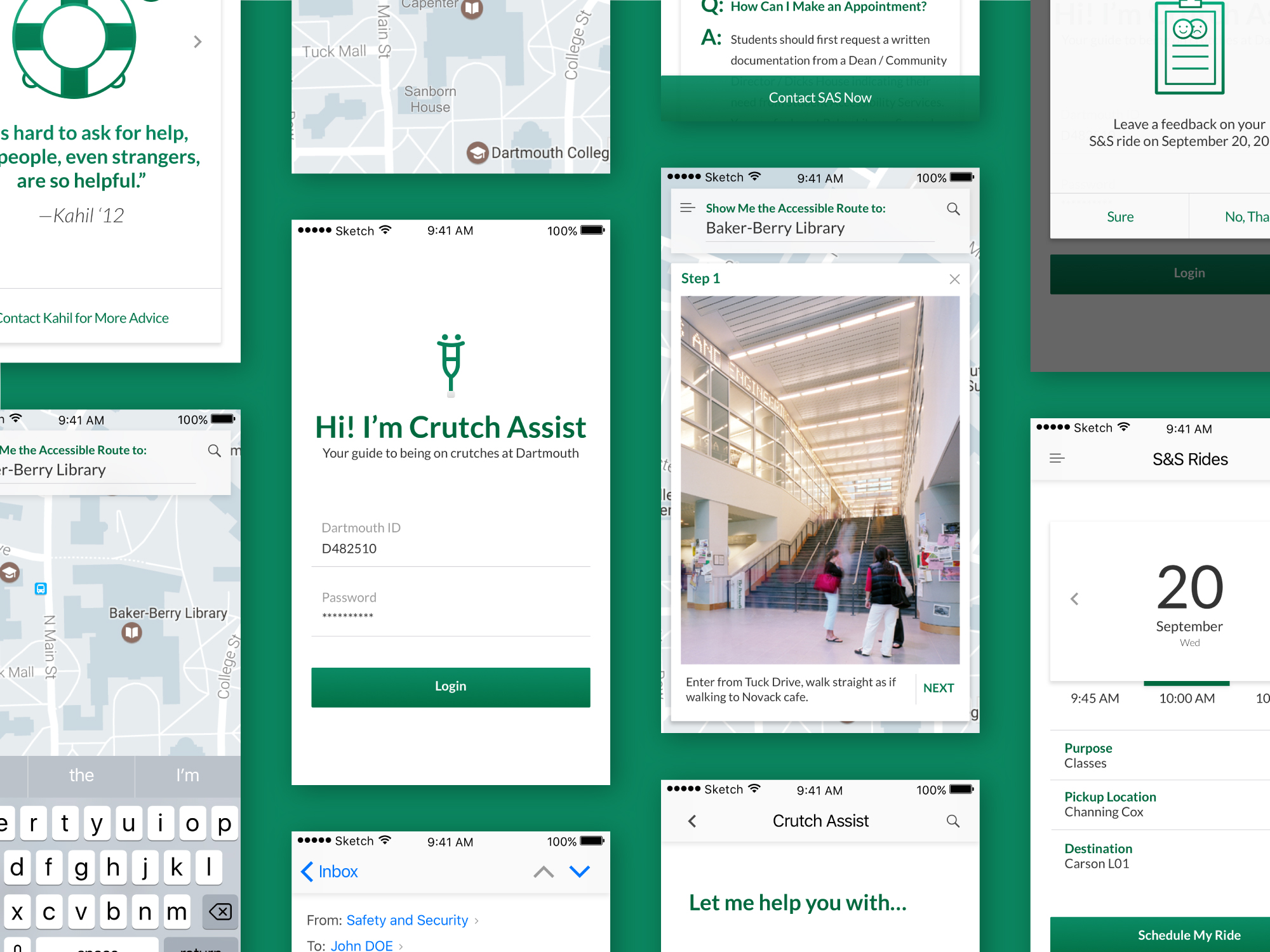 Overview
---
In winter term 2012, my former roommate, Anna Pasternak, broke her leg playing pond hockey. She had to be in a full leg cast with a boot and use the crutches for 6 weeks. Her experience inspired me to conduct a 10 weeks independent study into the problems students on crutches at Dartmouth College face.
Role
Design, Research, Concept
Tools
Sketch, Photoshop, Illustrator
Methodology
---
Method 1: In-Person Interviews
To explore the full scope of the issue, both efforts made by the College to help students and concerns of students were evaluated.
22 students interviews (Questions asked: What is the most difficult for them? What problems, if any, do they have with being on crutches at Dartmouth? What they wish they had known about being on crutches)


1 student leader interview with Rebecca Gotlieb '12, co-founder and president of "Access by Leadership in Equity" (ABLE), a student organization "seeks to raise awareness within the Dartmouth Community about issues of access and ability"


6 administrators and staff interviews, including: Ward Newmeyer, Director of Student Accessibility Service; Keiselim Montás, Associate Director of Department of Safety and Security; Dr. Jack Turco, Director of Dartmouth College Health Service; Staff at Courtyard Café and '53 Commons (Cafeterias on campus)
Method 2: Shadowing & Observation
I shadowed Anna and keenly observed other students with crutches. I also used a "Role-Play Strategy" and tried to navigate around campus on crutches myself since I do not have prior experiences being on crutches
Findings & Analysis
---
7 problem areas are identified in my interviews with students: Academics, Architecture/Residential, Crutches Design, Food, Safety and Security Rides, Social and Weather. (Request report for details).

More importantly, I realized some students on crutches do better than the others, and what constitutes the difference is whether the students have a strong support group or friends with previous experiences on crutches. In fact, the 7 problem areas have a common element and perhaps is where the real problem lies: INFORMATION ACCESS. I have also narrowed down my target users to students who do not have a strong support network.
Crutch Assist — an efficient solution to navigating Dartmouth on crutches.
Overview
Clean and intuitive interface for easy access to the major problem areas reflected in student interviews: Safety & Security Rides, Building Access, Information about Students Accessibility Services and other resources available.
S&S Rides
Almost all students interviewed expressed dissatisfaction with Safety & Security rides, including bad experiences with the dispatcher and being late to classes and trainings because rides did not come on time. With Crutch Assist, students no longer have to call to arrange for a ride. To avoid overloading S&S's work, students must schedule rides 48 hours in advance and rides are limited to classes and checkups.
After their ride, students are prompted to fill out a survey. This is vital because while many students have valuable opinions, these ideas are not passed onto the administrators, who could make actual changes.
Accessible Route
Not all building entrances at Dartmouth are accessible for crutch users, some have heavy doors, some are far away from the elevator. This app feature allows crutch users to find the easiest way to get to their location and help them to visualize/practice mentally how to get there — thus better planning and less stress.
Other Resources
Some students have the misconception that Student Accessibility Service (SAS) only serves those who have a documented learning disability or permanent disability. The SAS component provides all the information about resources SAS provide to students on crutches.
From my interviews, it is evident that students on crutches at Dartmouth benefit most from advice from friends and teammates with prior experiences. However, not everyone has a friend who has been on crutches at Dartmouth before. This is when the
Tips from Other Students
component is useful. If the advice giver had agreed previously, user can also contact him/her for immediate advice.
Other Thoughts
---
For the map navigation, adding estimated on crutches traveling time, similar to that of Google Map
Tackling the issue of getting food on crutches. This is a huge problem area discovered from interviews with students on crutches, some students have devised homemade solutions such as ductaping a cup to the crutch